Il Corso di alta formazione BST – Brand dei Sistemi Territoriali è finalizzato all'apprendimento e all'utilizzo degli strumenti e delle tecniche più aggiornate per operare nel campo dello sviluppo competitivo e sostenibile dei territori, della loro comunicazione e visibilità.
Un'esperienza formativa rivolta a professionisti e giovani laureati basata sul learning on the job, ovvero sull'applicazione di metodi e strumenti ad un caso reale, per potenziare le competenze di attori e operatori professionali impegnati nella gestione di istituzioni e agenzie di sviluppo locale, e di tutti coloro interessati alla progettazione strategica e alla promozione dei sistemi territoriali.
Il Corso è finalizzato alla formazione di nuovi profili di operatori capaci di coniugare competenze di tipo manageriale ed organizzativo con competenze di tipo progettuale nella definizione del "ritratto" di un luogo.
Maggiori informazioni: http://www.polidesign.net/it/bst
Contatti: bst@polidesign.net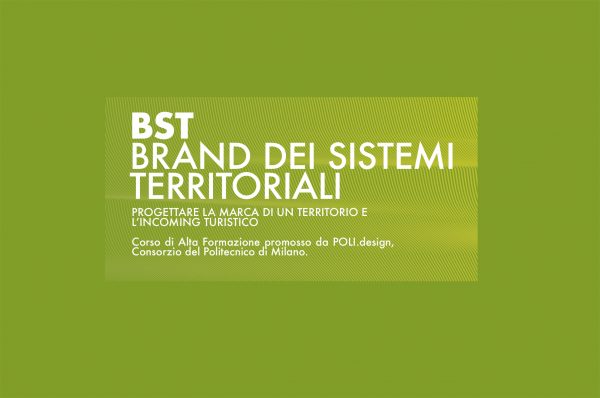 The advanced training course BST – Brand of the Territorial Systems is aimed at the learning and the use of cutting-edge tools and techniques to operate in the field of competitive and sustainable development, communication and visibility of territories.
An educational experience aimed at professionals and young graduates based on learning on the job and on the application of methods and tools to a real case, to enhance the skills of actors and professionals involved in the management of institutions and local development agencies, and all those involved in the strategic planning and the promotion of territorial systems.
The course trains new professionals able to combine managerial and organizational skills with the project for the definition of the "portrait" of a territory.
More information: http://www.polidesign.net/en/bst
Contacts: bst@polidesign.net